2022 Special Events
All events, programs and operations are subject to change. Lang Pioneer Village Museum will be closely monitoring the COVID-19 situation and will make adjustments to event dates and details as necessary to adhere to current safety regulations. Lang Pioneer Village Museum operates in accordance with recommendations outlined by Public Health officials regarding COVID-19.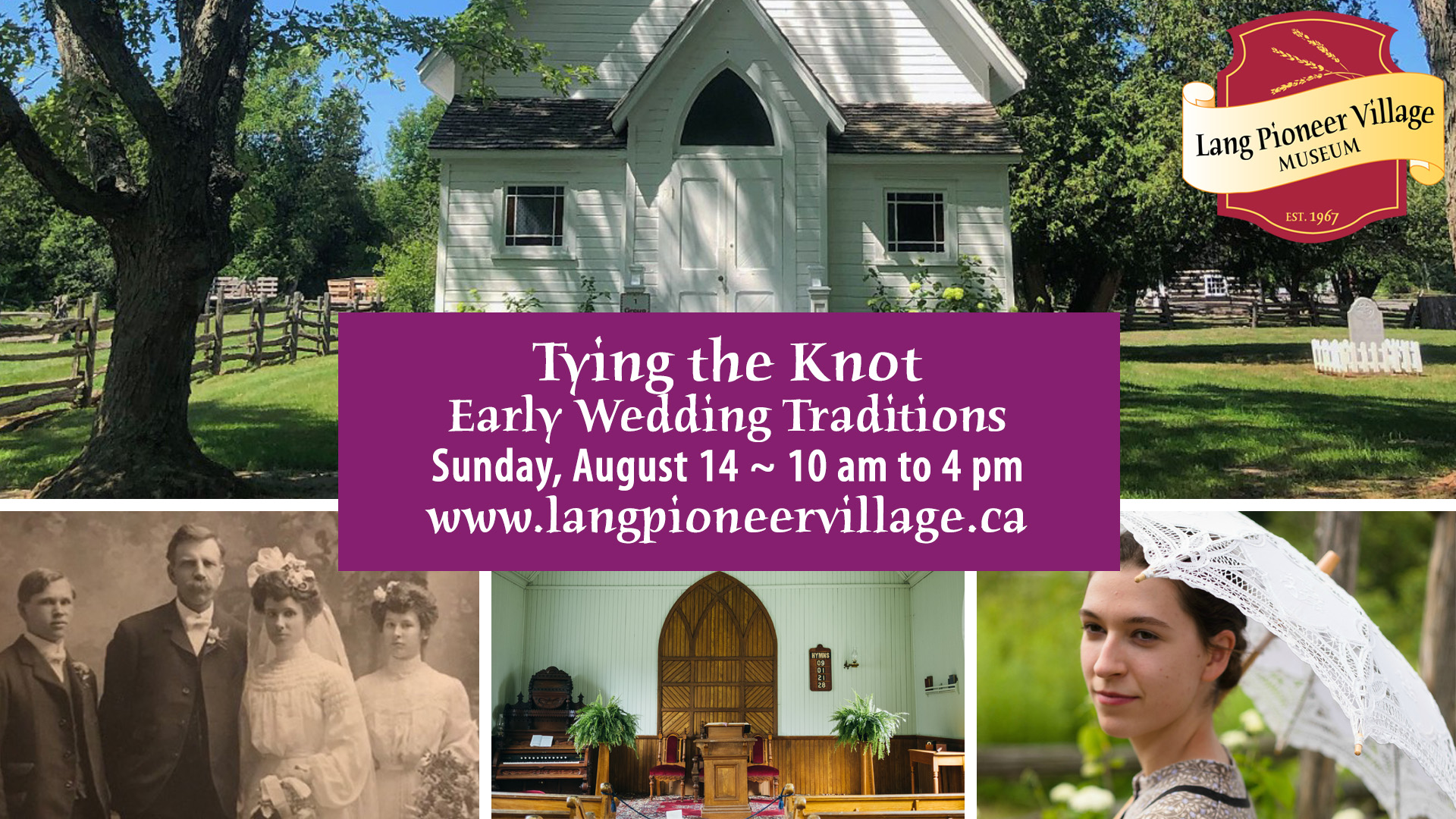 "Tying the Knot" – Early Wedding Traditions
Sunday, August 14, 2022 ~ 10 am to 4 pm
Join us as we delve into wedding traditions of the 19th century and learn about some of the origins of practices popularized then, and now. Slip on your old wedding gown or a bridesmaids' frock and dress up for the celebration with us!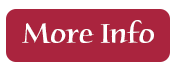 Village by Lantern Light
Friday & Saturday, September 16 & 17, 2022 ~ 6 pm to 9 pm
Tour the village by the soft glow of lantern light and experience the charm of Village life after dark.
Tickets go on sale Wednesday, August 17.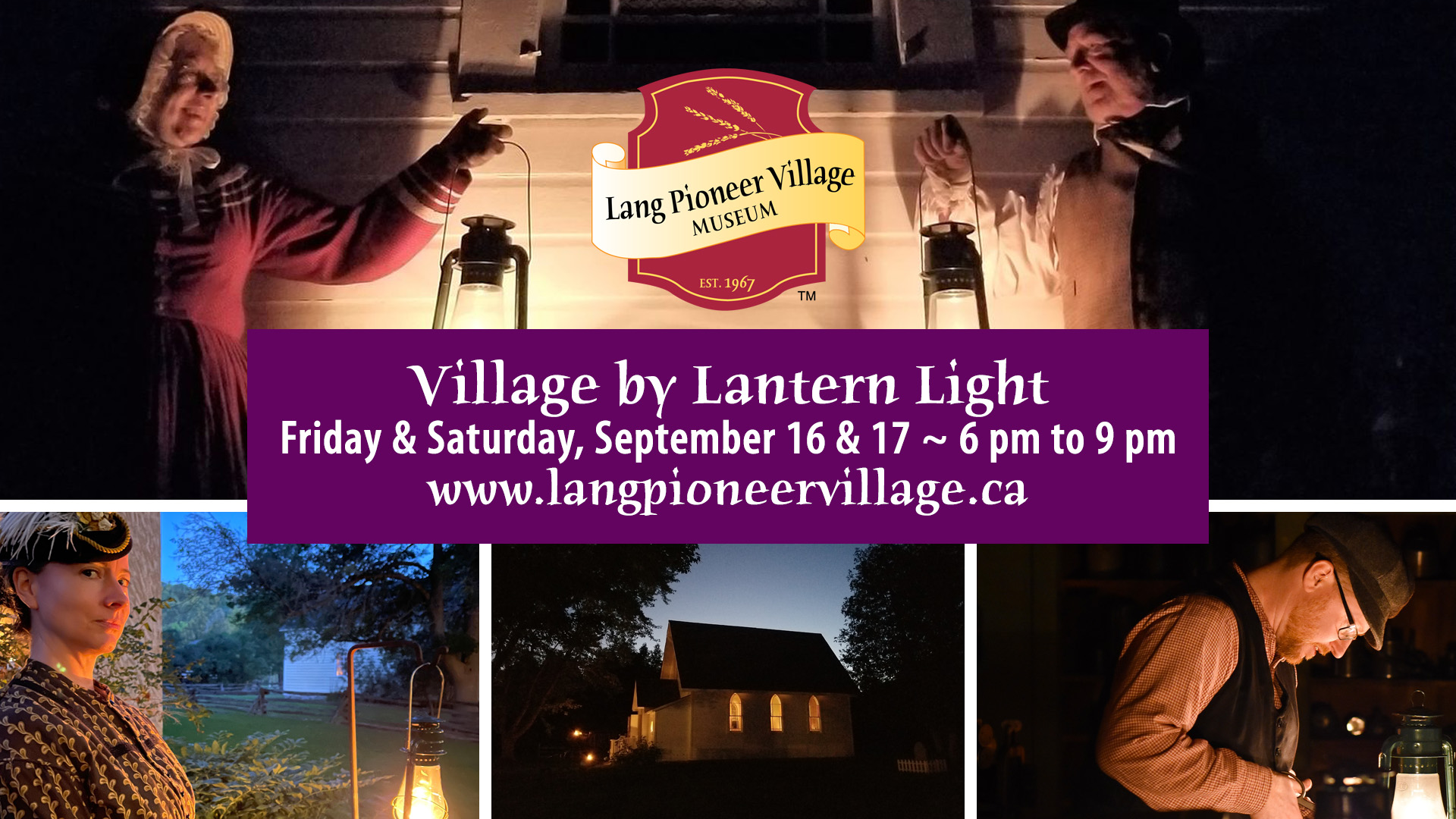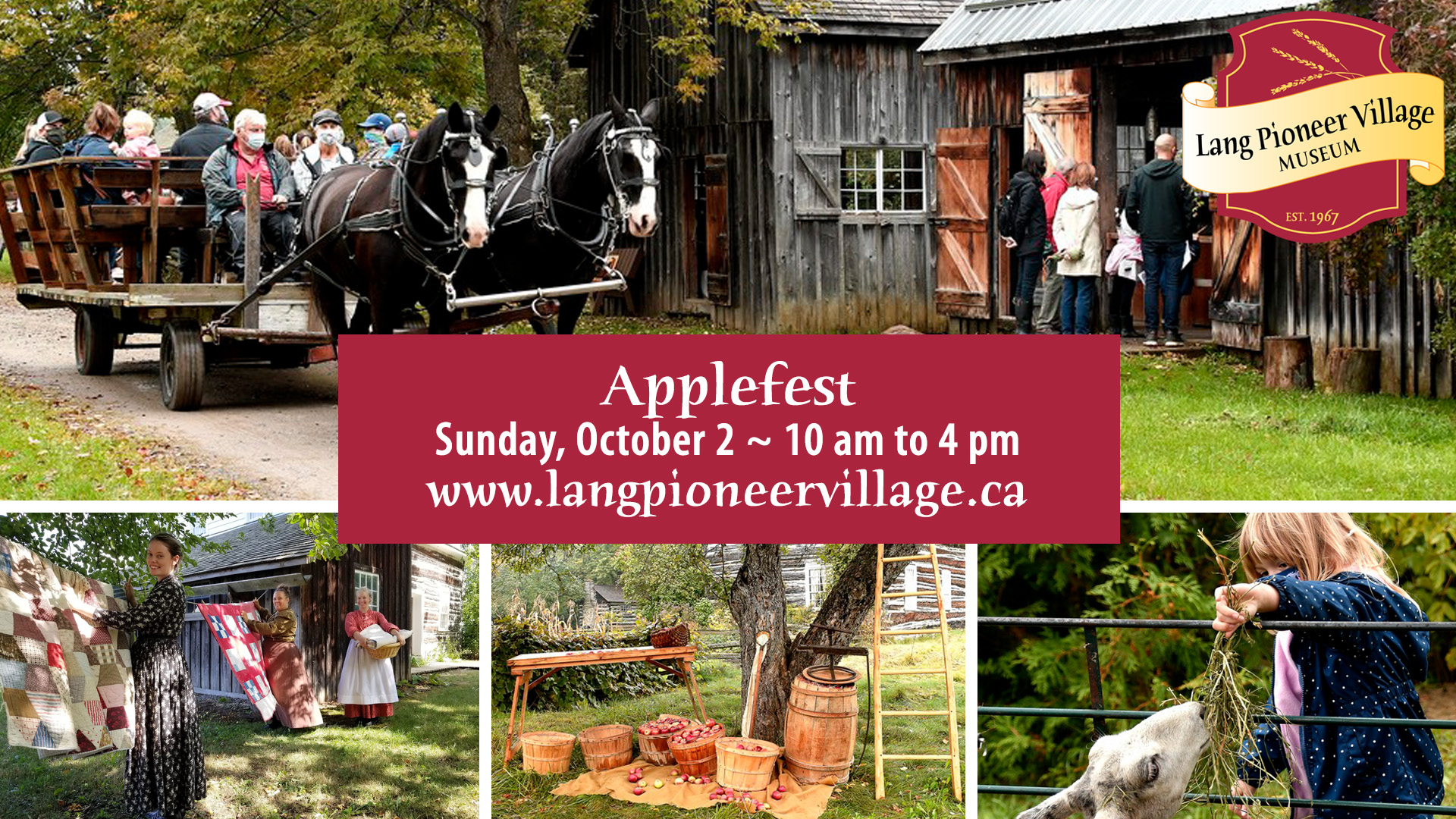 Applefest
Sunday, October 2, 2022 ~ 10 am to 4 pm
Tempt your taste buds with the sweetest event of the year! Come out to Lang for a colourful fall celebration of apples and the harvest. See the Cider Mill in full operation. Enjoy wagon rides, live music, historic demonstrations, apple treats, games and so much more!
Tickets go on sale Wednesday, September 7.
Historic All Hallows' Eve
Friday & Saturday, October 28 & 29, 2022 ~ 6 pm to 9 pm
Discover the origins and traditions of Halloween. Featuring magic, games, fortune telling, tractor and wagon rides and more, this all-ages event is sure to get you into the Halloween spirit.
Tickets go on sale Friday, October 7.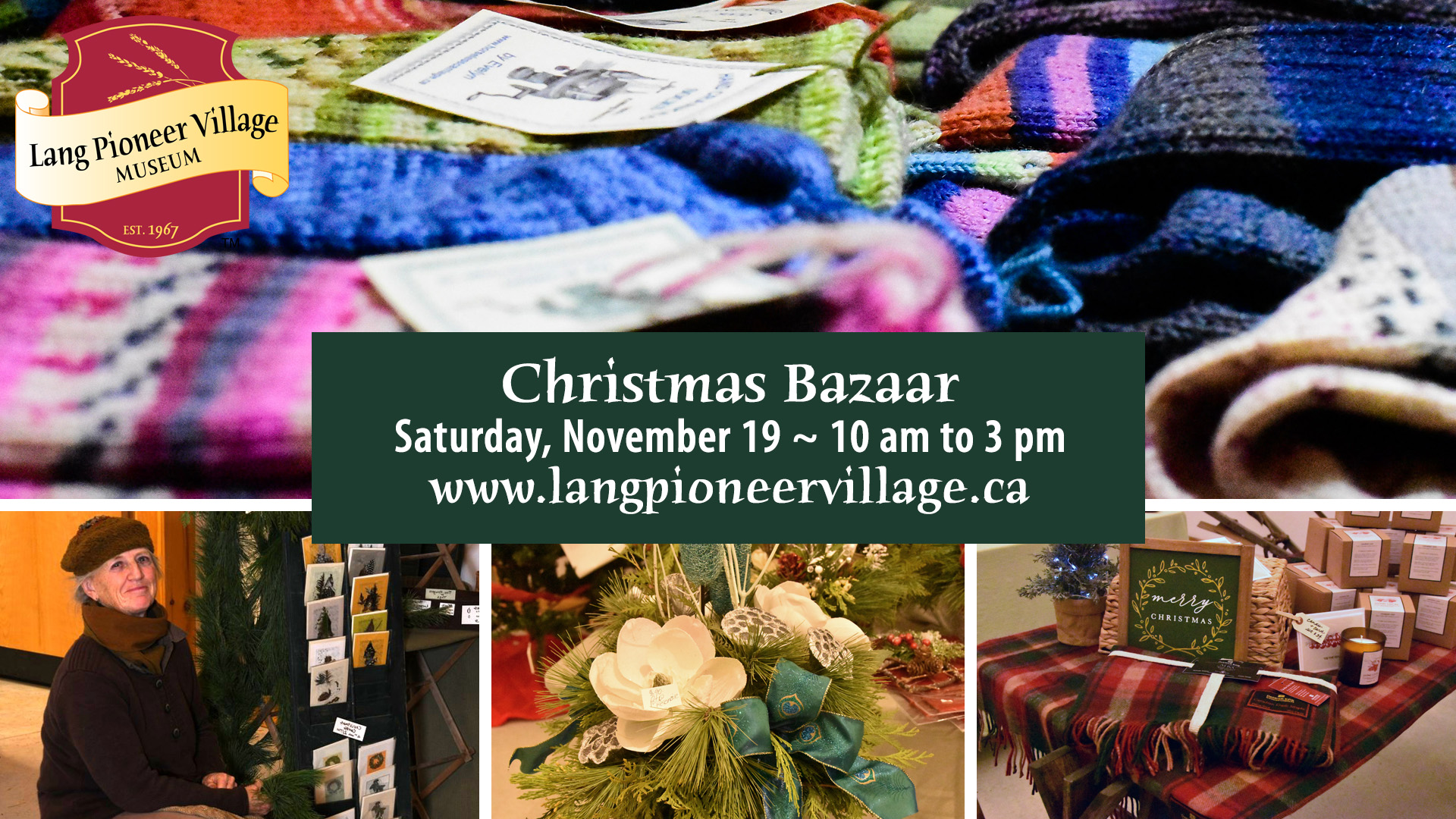 Christmas Bazaar at the Peterborough County Agricultural Building
Saturday, November 19, 2022~ 10 am to 3 pm
This Christmas market offers a fine selection of unique bits and baubles, handmade gifts, and festive decorations to satisfy all your holiday shopping needs.  
Christmas by Candlelight
Saturday & Sunday, December 3 & 4 , 2022~ 4 pm to 8 pm
Get into the merriment of the season with a traditional Pioneer Christmas. Join along in a carol sing, tour the village by wagon ride, meet Father Christmas and learn about the origins or Christmas traditions we celebrate today. On Sunday, witness a live nativity by the Keene United Church. Delighting the sights, sounds and smells of the holiday season with us!
Tickets go on sale Wednesday, November 2.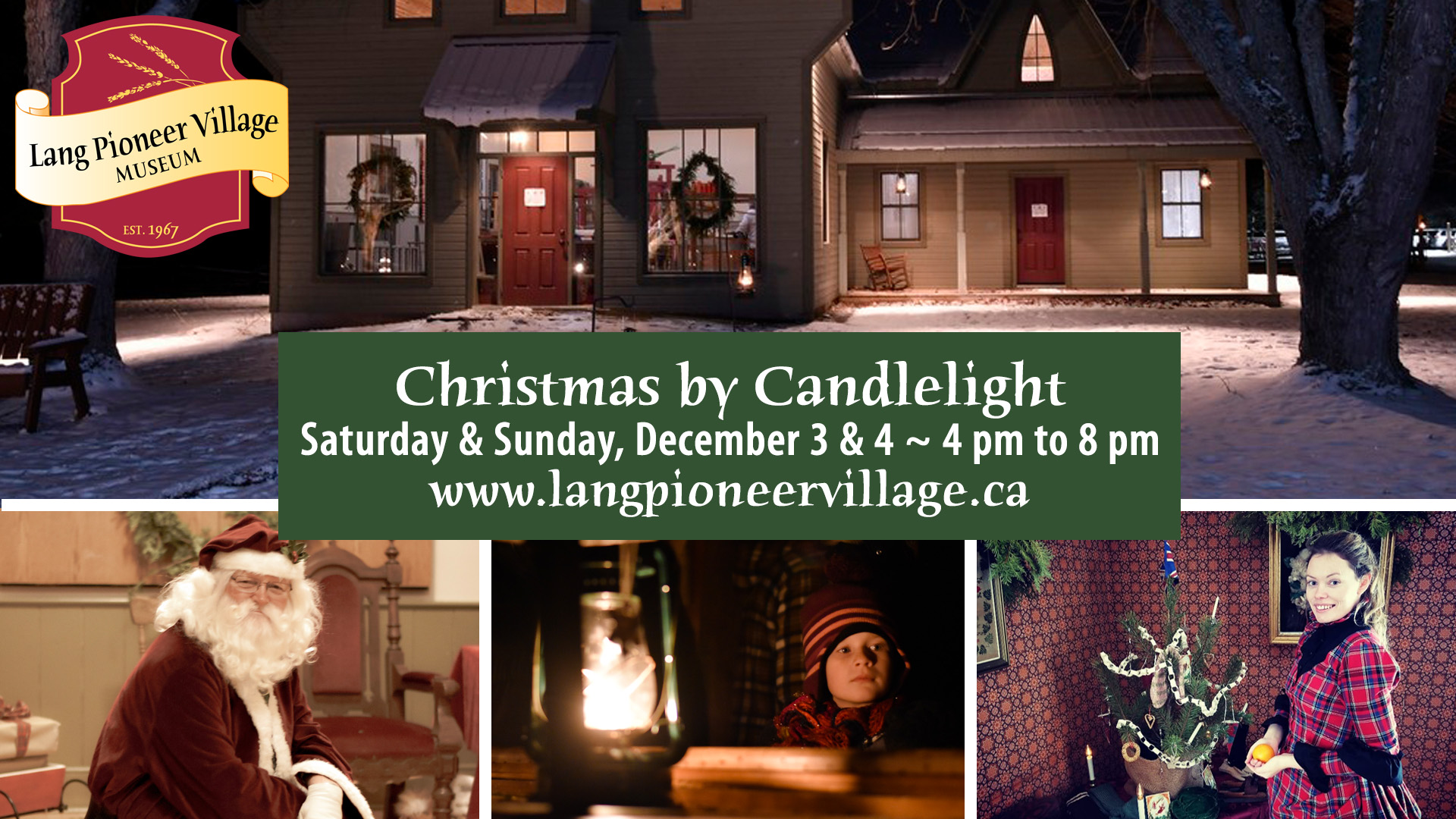 Please note: Special activities are subject to change due to weather, materials, volunteer availability and unforeseen circumstances.
Please Be Advised: There may be photographers/videographers on site during your visit. Upon entering the premises, you are consenting to having your photo and/or video taken and grant permission to Lang Pioneer Village Museum to use your photo/video for promotional purposes.
Thank you to our partners:
Date/Time
Event
Sunday, August 14th
10:00 am - 4:00 pm
"Tying the Knot" – Early Wedding Traditions
Saturday, August 20th
10:00 am - 3:30 pm
Meet & Greet with the Ontario Wood Carvers Association
Saturday, August 20th
10:00 am - 4:00 pm
Weaving Demonstrations on the Jacquard Loom
Friday, August 26th
7:30 pm - 9:30 pm
Cross Cut: Backwoodsmen in Concert
Saturday, September 3rd
10:00 am - 4:00 pm
Weaving Demonstrations on the Jacquard Loom
Friday, September 16th
6:00 pm - 9:00 pm
Village by Lantern Light
Saturday, September 17th
6:00 pm - 9:00 pm
Village by Lantern Light
Sunday, October 2nd
10:00 am - 4:00 pm
Applefest
Sunday, October 2nd
10:00 am - 4:00 pm
Weaving Demonstrations on the Jacquard Loom
Friday, October 28th
6:00 pm - 9:00 pm
Historic All Hallows' Eve