Glen Alda Church
The Glen Alda Church provides a picture-perfect setting for small, rustic weddings. The non-denominational church building will accommodate approximately 65-68 people.
Grist Mill Lawn
The Grist Mill Lawn may also be rented for wedding ceremonies and can accommodate approximately 100 people. Please note that all rental equipment, chairs, sound system, etc, are not included in this package or provided by the Museum.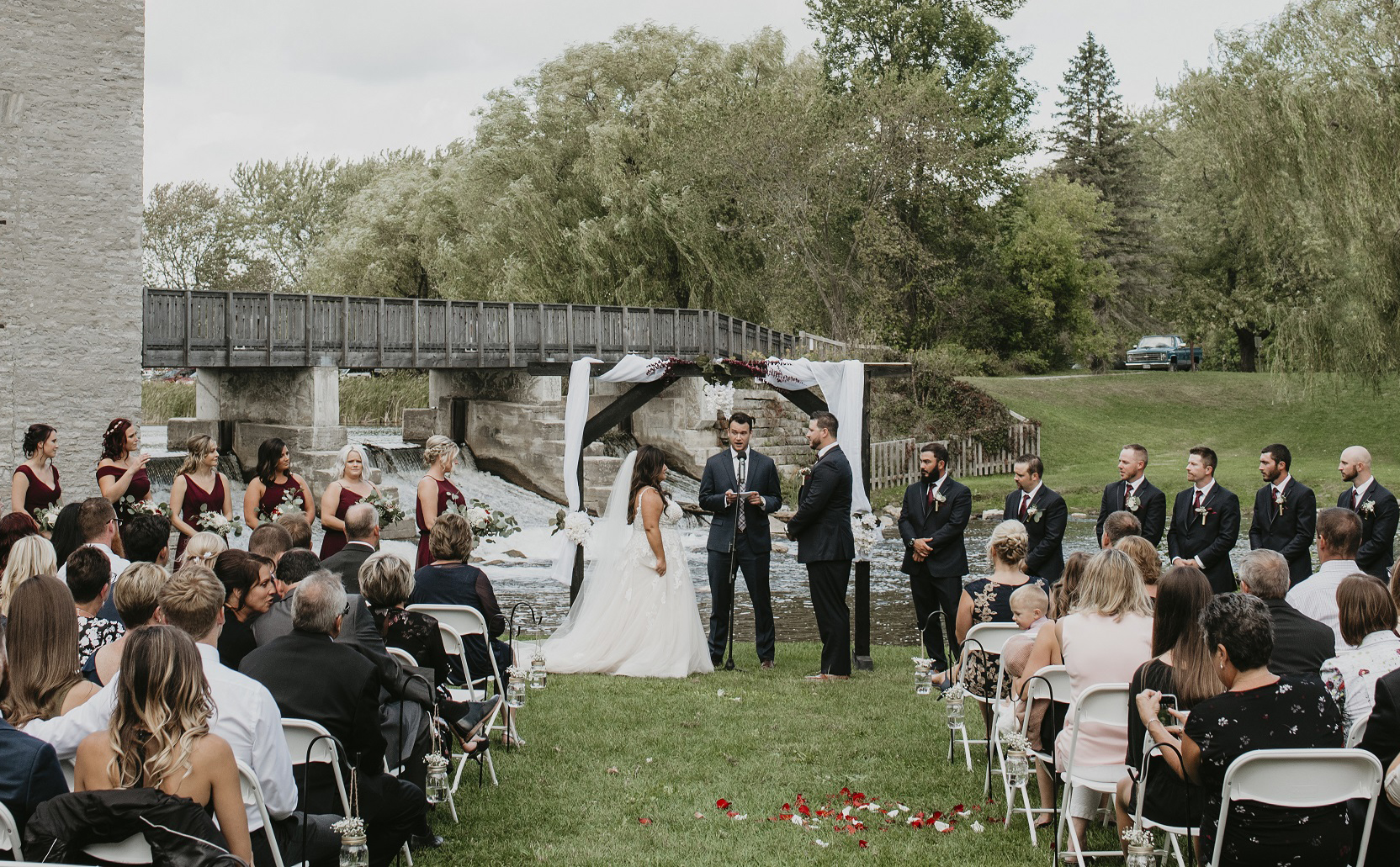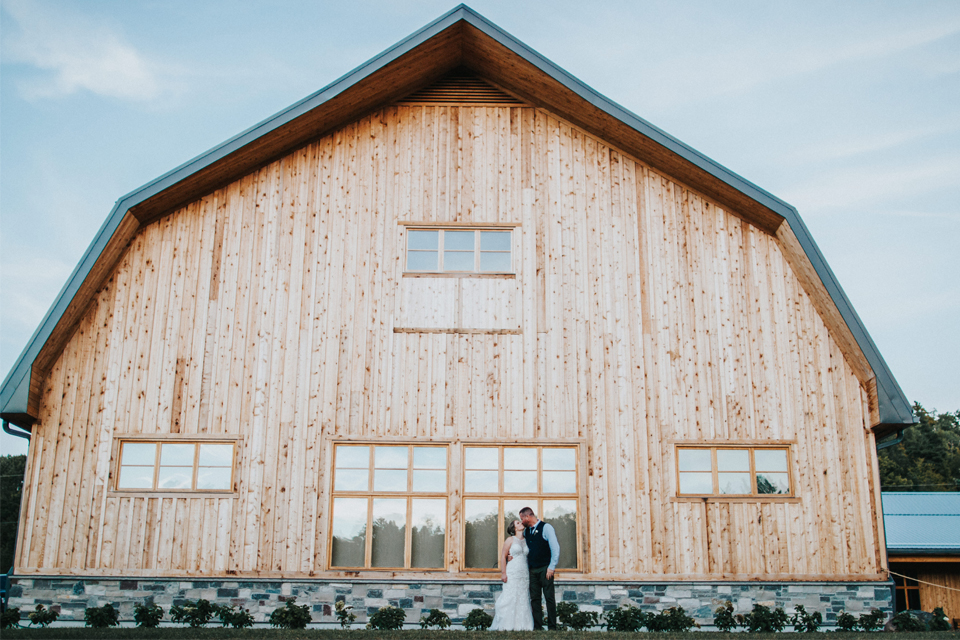 Peterborough County Agricultural Heritage Building
The new Peterborough County Agricultural Heritage Building, located at the back of the historic village is a perfect setting for a country wedding or reception. This beautiful new building accommodates up to 150 people.
Site Rental for Wedding Photos
Lang Pioneer Village Museum is a photographer's paradise when it comes to taking memorable wedding or engagement photos. Many wedding parties have chosen our captivating Lang Grist Mill as the prime location for their images. The site is available for a fee of $100 per hour (+HST) and must be pre-booked. For weddings staged at Lang Pioneer Village Museum, use of the site for photographs is included in the rental fee. Please note that the only building in which interior shots are permitted for weddings is the Glen Alda Church.
There is a 35% non-refundable booking deposit to hold space. Full payment must be paid the first day of the month prior to the wedding date. For further details, availability and bookings, please call 705-295-6694 ext. 5104 or email rentals@langpioneervillage.ca.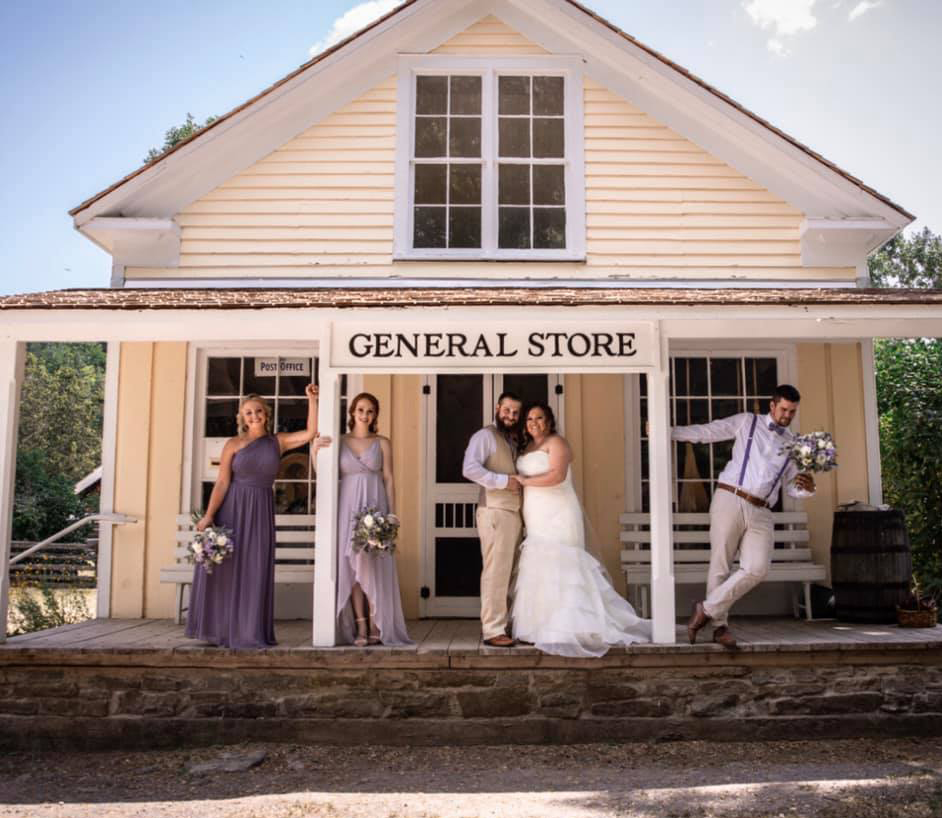 For all inquiries regarding weddings, please call 705-295-6694 ext. 5104 or e-mail rentals@langpioneervillage.ca. To serve you better, please be sure to include the following information in your initial email correspondence:
What the booking is for
A potential date
Contact information (address, best phone to number to be reached at, preferred contact method etc.)
Package
Details
Fee
Package A

Ceremony & Reception

Wedding Planner to assist with onsite logistics for your day
Reception and use of the Peterborough County Agricultural Heritage Building for a 12-hour period
Pre-clean and reception set-up (tables & chairs) from one of our approved layouts
Post-clean and take-down of set-up
Indoor or outdoor ceremony in an approved location (Courtyard, Church, Mill Lawn)
Rehearsal time the day prior (two-hour window)
Access to the Museum grounds for photographs pre- or post-wedding
Use of kitchen and amenities (Fridge, Stove, Freezer)
Security Team (2) – Will close up facility at end of event and monitor throughout
Podium (if desired)
Black screens (if desired)

$9,500 + HST
Package B

Reception Only

Reception held in the Peterborough County Heritage Agricultural Building
Package includes everything listed above, with the exception of the ceremony

$8,800 + HST
Package C

Ceremony Only

Ceremony held at approved location throughout the Village
Glen Alda Church, Mill Lawn, Village Green, PCAHB Courtyard

$800 + HST
Hold requests must include your rental type, package choice and date. Please note that holds for rentals will only be placed after consultation with and confirmation from the Lang Pioneer Village Museum Wedding Consultant. You will receive an email outlining the date on hold and the duration of the hold. It is your responsibility to contact the Museum to release the date or confirm the booking by the hold end date. Confirmation of the booking requires a 35% deposit. Without confirmation and booking deposit, after 10 business days the hold will be released.