S. W. Lowry Weaver Shop
& Jacquard Loom Interpretive Centre
The newly built S. W. Lowry Weaver Shop and Jacquard Loom Interpretive Centre is home to two of only a handful of authentic Jacquard looms that can be viewed in North America. The Lowry Jacquard Loom at Lang Pioneer Village Museum was purchased by a young man named Samuel Lowry who was born in Warsaw, Ontario in 1862. He worked as a weaver in Warsaw from 1884 to 1888 then moved to Peterborough and established a business at 172 Hunter Street. His main products were carpets, flannel and horse blankets which were sold to clients from Lakefield to Hastings and Warkworth to Omemee.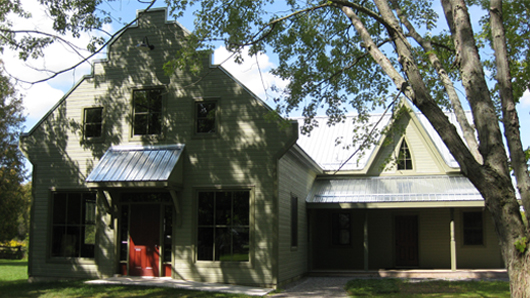 Lowry's collection of looms was left to his landlord as payment for a debt owed in back rent. The looms were purchased at an auction sale by Mrs. Dini Moes (herself a Master Weaver) and donated to the Museum in 1973.
In 2004, Mr. Didier Schvartz, a master weaver, conducted a meticulous restoration of the loom involving hundreds of hours of research to carefully maintain the authenticity of the artifact by using historically-accurate materials. The two looms' mechanical heads are believed to have been been built between 1840 and 1860.
The restoration project was made possible through the generosity of several organizations including the Chawkers Foundation, the Community Futures Development Corporation as part of the Eastern Ontario Regional Development Initiative, the Sharon Nelson Memorial Fund, former Peterborough County Warden Neal Cathcart, and former Peterborough County Warden Ron Gerow.
The S. W. Lowry Weaver Shop & Jacquard Loom Interpretive Centre at Lang Pioneer Village Museum features both a replica weaver shop and modern interpretive centre. The replica weaver shop officially opened in the summer of 2011. The building is a reproduction of a late 19th-century weaver's shop and provides visitors with an opportunity to see the restored Lowry Jacquard Loom and working reproduction. The Interpretive Centre serves as an exhibit and educational area and features a fully-operational loom and demonstrate the step-by-step process of how fleece from a sheep becomes a woven fabric. The replica Jacquard loom was officially unveiled in August 2015.
Watch the Meet the Makers TV segment on the Jacquard loom presented by Best Trip TV. Click here to view the full article.
The following gallery is a photo documentation of the Jacquard loom restoration, construction of the S. W. Lowry Weaver Shop & Jacquard Loom Interpretive Centre and the building of the replica loom.
Request for Information
We are looking for information on descendants of Samuel Lowry and his life story after leaving Peterborough. Samuel Wallace Lowry and Eliza Campbell were married 1 June, 1892 in Peterborough. Their first son, Ivan Eustace, was born 31 October 1893 in Peterborough. Their second son, Erin Vivian Montague, was born in Peterborough 10 August 1896. A third son, Sanfield, died at 10 days of age in Peterborough. If you have any information, please contact the Museum at 705-295-6694 or e-mail info@langpioneervillage.ca.